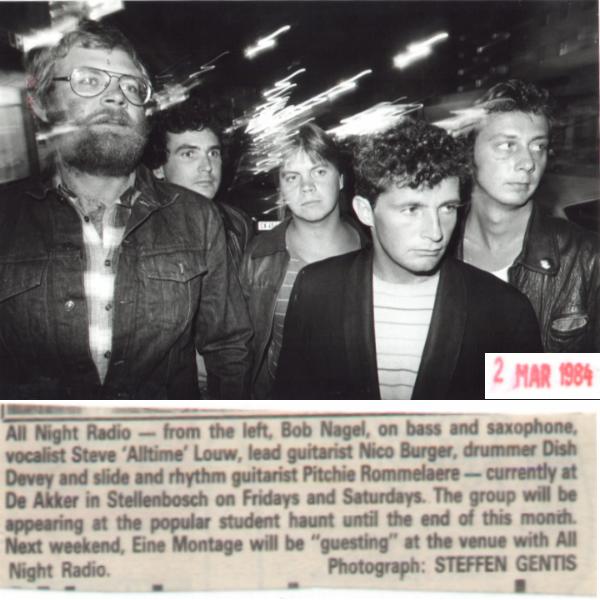 All Night Radio: March 1984 (left-to-right): Rob Nagel: bass & sax, Steve Louw: vocals & guitar,
Nico Burger: guitar, Dish Devey: drums, Pitchie Rommelaere: guitar
All Night Radio - Breaking Hearts (Live at Ellis Park Stadium, 1985)
Concert held at Ellis Park Stadium, Johannesburg on the 12th January 1985 in aid of Operation Hunger.
Reviews:
First off, if only for its trail-blazing status, is All Night Radio's double A-sided record, Breaking Hearts and Sea Side Love. This is the much talked-about first product of the Cape Town band's collaboration with producer John Rollo, an Englishman living in the United States who has produced amongst others, Little Steven & the Disciples Of Soul, Roberta Flack, Stevie Nicks, the Kinks and George Benson.

While on the subject, some gossip might be in order. The story goes that ANR's Steve "Alltime" Louw just happened to be going to Johannesburg at the same time that Little Steven was in town, a fact mentioned to a local journalist who had been hoping to interview Little Steven but couldn't get to the Golden City to do it. The said scribe then drew up some questions, gave them to Louw and arranged the meeting from Cape Town. Louw, with a formidable nose for a break, grabbed the meeting, dumped the questions and, on meeting the great one asked: "Will you produce my band?" According to the rumor, he also insisted that Little Steven listen to the tapes. "Er, I'd really like to," said Little, "but, you see, I just can't spare the time."

But we are proud to report that, by this time, our Steve had his teeth firmly in the jugular, expressing his band's willingness to wait. Realizing his defeat, Mr van Zandt declared that although he couldn't do it, he could introduce Mr Louw to the co-producer of his album, one John Rollo. Transatlantic phone calls followed, Money was discussed and Music listened to and Mr Rollo winged his way to Cape Town, leaving George Benson waiting nog.

Carefully watched by Louw, he completed the mixing in his New Jersey studio - and voila! More seriously: With local producers coming under a lot of fire recently, the results of their work are going to be carefully scrutinized. Does it really make a difference? You bet. It just leaves local produce miles behind. The sound has presence and immediacy - I have yet to hear a local band sound as good on record as ANR do here. Louw's vocals are commanding and passionate, the guitars have that gritty edge and the whole appears to be strong chart-orientated stuff.

The Argus Tonight (3 October 1984) Pop World by Shannon Sherry
---
The first single from All Night Radio's debut album was released last week. The double A-sided rocker, Breaking Hearts, c/w Sea Side Love, is a no-nonsense uncompromising recording debut, and an exciting glimpse of what the group intends to offer on its forthcoming album. Produced in Cape Town by New York-based John Rollo, "Breaking Hearts" is probably the noisiest and freshest-sounding rock single produced in this country to date. Guitarist Nico Burger effortlessly establishes himself as wunderkind here in one neat and fluid solo. ANR think they're a great group. They probably are. I will be having words with them about this.

Cape Times Review (5 October 1984) Exciting Glimpse by Andrew Donaldson
Back home, All Night Radio's The Heart's The Best Part is a thunderous debut, with its hard-driving snare-drum guitar orientated sound (Springsteen a la mode). Forget the "well-produced, technically perfect" spiel (it is a remarkable album in that aspect) and listen to the songs. Singer Steve Louw displays a talent for crafting songs that are free of obvious and clichéd hooks. They're energetic, they're thoughtfully constructed and, what's important, they have a shelf life that takes you far past the first listening.

Cape Times Funfinder (9 November 1984) Music by Andrew Donaldson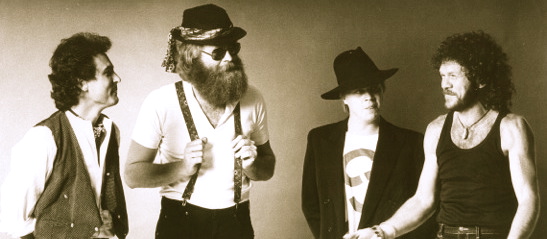 All Night Radio (left-to-right): Steve Louw, Rob Nagel, Nico Burger, Derek "Bokkie" de Beer
A return to basics, that's what Cape Town's All Night Radio wanted on their debut single so it's a no-nonsense double A-sided rocker, Breaking Hearts / Sea Side Love. The group - Steve Louw (vocals, guitar), Nico Burger (guitars) and Rob Nagel (bass guitar, harmonica) - wanted to capture their pent-up raucous and emotive energy without compromising their live spirit. ANR needed a state-of-the art quality studio recording and got it. The album, The Heart's The Best Part, was recorded by New York-based engineer/producer John Rollo (known for his work with The Kinks, Little Steven van Zandt, Stevie Nicks and George Benson), and was completed in 10 days in Cape Town's UCA Studios with the help of session men Richard Pickett on drums, and Brian Seftel, on keyboards. It was mixed at House of Music in New Jersey and mastered by George Marino at Sterling Sound, NYC.

ANR met at Stellenbosch University, where a common love for the Blues and Rock 'n Roll found them playing with David Kramer and Leslie Rae Dowling in various folk-dives and student one-offs. The three split up - Steve Louw heading for New York City and Rob Nagel going to Hamburg. After two more years of sweaty rock and roll dives, Rob and Steve decided to return to Cape Town and, reuniting with Nico in June, last year, use the city as the base for their assault on the record industry. Then came months of all-night rehearsals, live gigs to test the songs, more rehearsals, more gigs, and skeleton studio and live recordings until April this year, when the band felt they were ready to record. Steve van Zandt, former E-Street Band guitarist, put the band in touch with John Rollo, who had just completed the Little Steven album, Voice of America.

On the strength and spirit of ANR's music on a hissing four track cassette, Rollo decided to pack his bags, fly from New York to the bottom of the darkest continent, and record these South African rockers. Together with Steve Louw, Rollo returned to his home studio in New Jersey, where the album and single was mixed. Rollo then enlisted the support of long-time friend George Merino to master and cut the disc at Sterling Sound. A US distribution deal is currently being negotiated while the band plan to tour in November.

Zigzag Rock Etceteras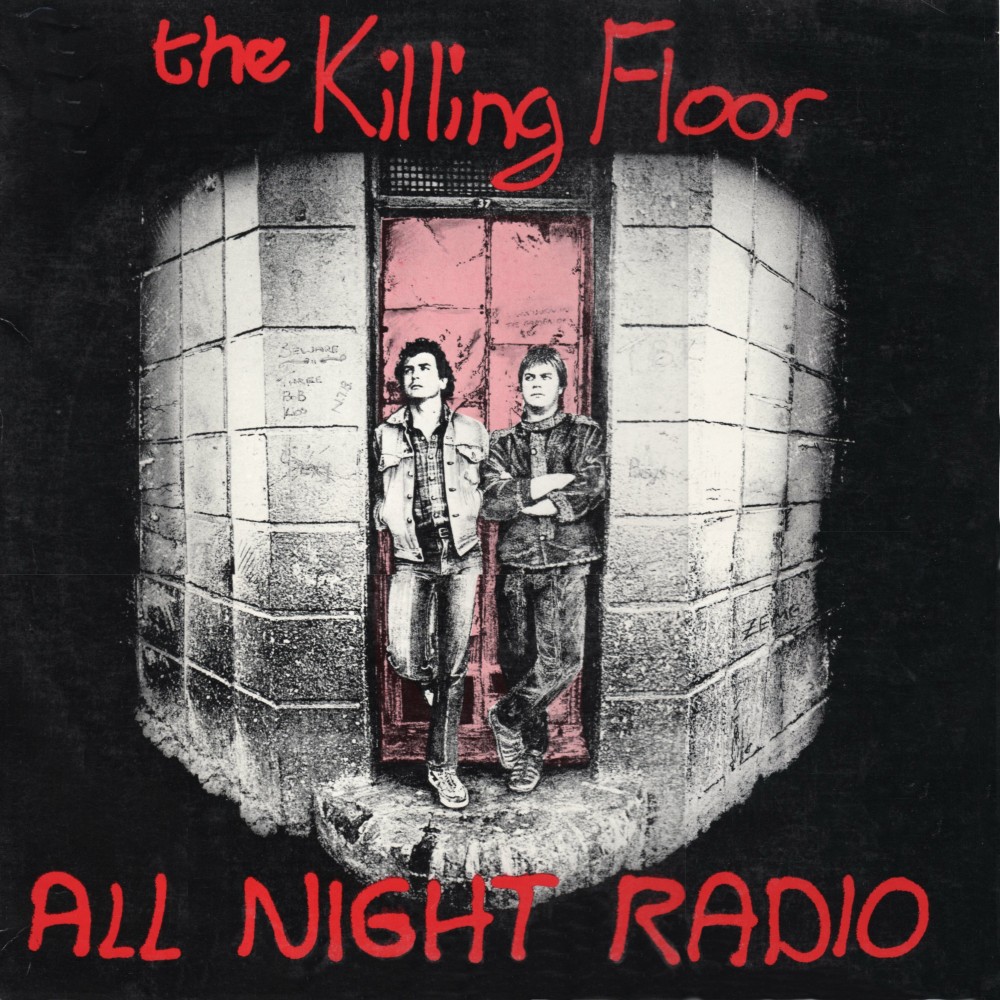 All Night Radio - The Killing Floor
Tracks:
Bernadette (Steve Louw) (3.03) b-side of Here Comes The Night single 1986
Here Comes The Night (Bert Berns) (3:11) single a-side 1986
On Through The Night (Steve Louw) (4:20)
Prisoners (Steve Louw) (4:11)
The Killing Floor (Chester "Howling Wolf" Burnett) (3:53)
Believe In Love (Steve Louw) (4:55)
Reign Of Fire (Steve Louw) (4:43) released as a single in Australia in 1986, BANNED in South Africa
The Hunger (Steve Louw) (3:44)
Hopetown 1975 (Stolen Gasoline) (Steve Louw) (4:37)
Musicians:
Nico Burger: Electric Guitar, Slide Guitar, Dobro
Mike Campbell: Electric Bass
Tony Drake: Piano, Organ, Sythesisers
Herman Eugster: Drums
Mike Faure: Saxophone
Steve Louw: Vocals, guitar
The Glee Singers: Choir on 'Fire of Reign'
Tim Parr: Guitar on 'The Killing Floor
Richard Pickett: Drums and Percussion
André de Villiers, Tracey Dogon, Mynie Grove, Tam Minter: Backing Vocals
In 2002, Kevin Shirley remixed a few of the tracks off this album, and in 2013 it was released for streaming and download.
Reviews:
All Night Radio's second album, The Killing Floor, has met with the wrath of the SABC. One of the main tracks, Reign of Fire, has been banned from airplay. Frontman Steve Louw went up to Johannesburg last week to do an interview on Radio5's program Loud and Proud and said he was told several tracks had been banned. "I was stunned. DJ Dave Charles broke the news to me. They also wanted to ban the first cut Bernadette because of the reference to District Six; Prisoners because of the lines 'prisoners of what we are told, prisoners out in the cold and prisoners in this land of gold"." Louw said after some negotiating with the SABC's own censor department only Reign of Fire was banned. The album will be released in Australia shortly.

Cape Times Funfinder
It was a fair while ago that we saw All Night Radio's debut The Heart's The Best Part charge off blindly into the night like some wild rambunctious rock 'n roll beast. They'd hired a British engineer to produce them, and he liked to make the boys sound lean and hard and live - I went to visit the studio while they were recording, and he'd put the drum kit in a steel-lined service elevator at the back of the room. Somebody banged on the snare and I had to back off in pain. So that's what it sounded like - very bright and loud. Of course, Stellenbosch yokel Steve Louw made no attempt to hide his Yankophilia, and his voice came roaring out like some weird cross between John Cougar Mellencamp and Tighthead Fourie.

Nico Burger's lead guitar tore through some pretty neat melodies, while bassist Rob Nagel contented his deepest ZZ Top fantasies by dyeing his beard red and sporting a baseball cap and shades. Ja, The Heart's The Best Part was a good album. The best ANR concerts had them fooling about with Presley and assorted blues, and their stand-in drummer played standing up. Naturally Steve played 'rock star" without much hint of irony. Nobody laughed too much. We had an excellent time. Now All Night Radio have a second album, The Killing Floor, which kicks up rather a different storm. It fades in with a light acoustic jig, fades out again, then suddenly guns off into territory I would never have thought possible. We're talking The Cramps, deep dark rockability with more than a hint of bad psychosis. I must listen to it again, but that was my first impression.

Then comes their cover of Them's Here Comes The Night - certainly an accomplished effort, but disappointing for adding little to either Van Morrison's lament of David Bowie's Pinups Ham-up. But onward: The Killing Floor is a loose, unhassled kind of album - there may be one too many entirely sappy American middle-of-the-road ballads in the Toto mould, but elsewhere the band's unexpected return to bluesy old rock 'n roll compensates with much rude aplomb.

Fair Lady (4 March 1987) Etceteras by Jeremy Thomas